Like a black shining meteorite?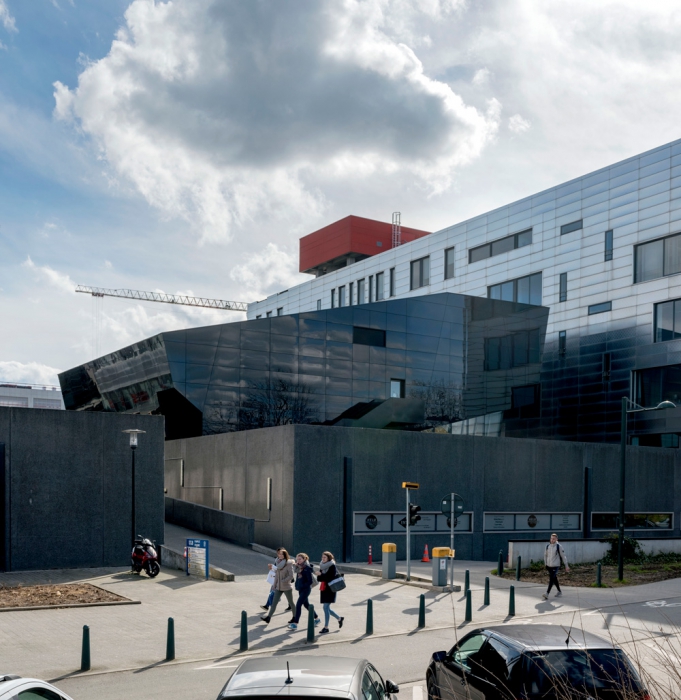 The project involves the construction of an auditorium of 324 seats at the "Campus Erasme" as an extension to the building P constructed by Ma² in 2007.
This project is launched and financed by the Jean Nile Institute that - in memory of its founder - donates this auditorium to the asbl Ilya Prigogine, owner of the building P. The auditorium completes the educational tool of the asbl Ilya Prigogine wishing to rationalise its locations and transform the "Campus Erasme" in a space for medical and paramedical training.

The volume of the auditorium is set down on the esplanade, carved out like a gemstone intended to distinguish and to dialogue with the orthogonal angle of the built context. This volume appears gradually climbing the access ramp to the esplanade.

The cantilever is destined to mean its function as auditorium and open to the meeting hall of the new construction towards the facade of the building P, meaning the auditorium entrance. The meeting hall of the auditorium is transparent to ensure visual continuity from one side to the other of the esplanade and create a dialogue between the different internal and external functions including the access ramp to the auditorium visible from the esplanade, a re-investment of the esplanade as a conviviality and meeting place.